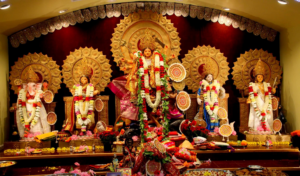 Houston Durga Bari is the beacon of the Hindu community in Houston.The temple is dedicated to Maa Durga, the Goddess of Power. This is the only temple in North America devoted to the worship of Goddess Durga, and is the product of many hours of community effort, led by the Bengali-Hindu community.
Nestled deep in the heart of Texas, Durga Bari presents an ideal environment for the study and practice of Hinduism: holding monthly religious discourses, conducting weekly pujas, and celebrating all Hindu festivals, capitalized by the Durga Puja. Considered the annual rite of autumn, Durga Puja is celebrated with high spirits and grandeur by over 3000 devotees. Regarded as the embodiment of Shakti (power), Maa Durga signifies the victory of good over evil.
Durga Bari also aims to provide a platform for cultural, educational, athletics, and youth programs geared towards the Hindu community. From basketball to cricket, Bengali School to Kala Bhavan, professionally-run websites to tastefully-published newsletters, Durga Bari has become a community hot spot. It now has Sunday school to imbibe a sense of pride in our beloved Bengali language in the impressionable hearts of the next generation – the potential flag-bearers of the future. Kala Bhavan caters to the artist ensconced in the hearts of the youths – it teaches painting, classical vocals, tabla (an Indian percussion instrument), and classical dance.
Additionally, Durga Bari's Sur Auditorium has provided a platform for eminent Indian exponents to enthrall the audience with captivating shows. From Mamata Shankar to Bhoomi, from Arndhuti HomChaudhuri to Shibaji Chatterjee, from Anjan Dutta to Rudraprasad Sengupta, luminaries have given life to the stages of Sur Auditorium.
Come, see, and experience our beloved Durga Bari. Immerse yourself in quiet meditation in our temple, enlighten yourself in Hindu philosophy, entertain yourself with colorful strains of Indian culture, and educate yourself in Bengali language and culture.
Be there, involve yourself and see the power of a vibrant, dedicated community; sense the power of Maa Durga!